Yesterday's LEAP was quite tasty. Meatball sliders were a hit and clean up was fun too!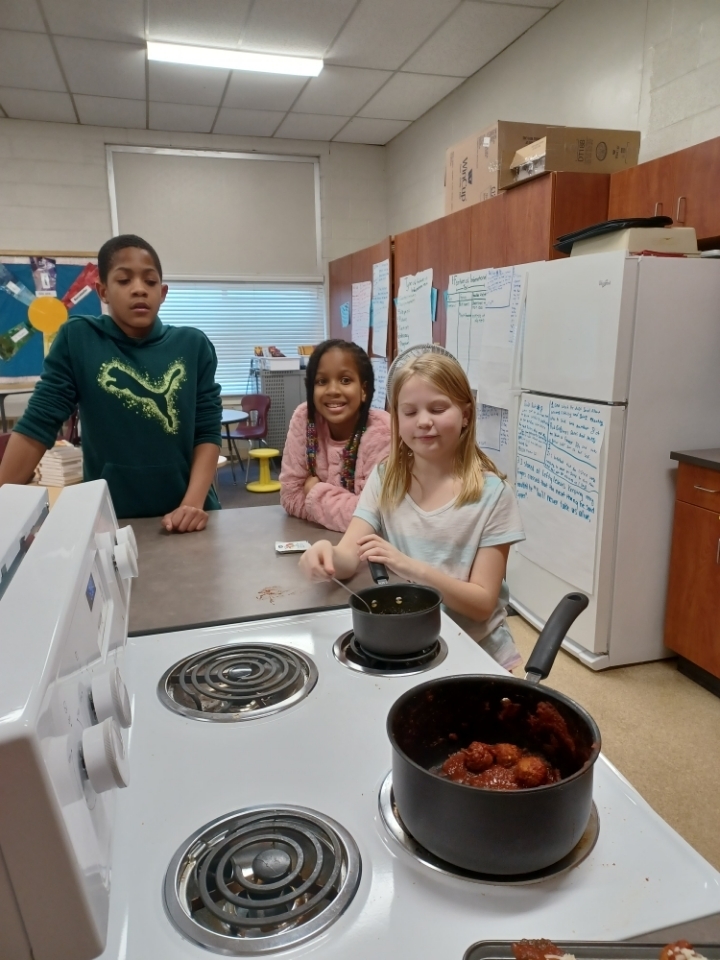 Parents/Guardians, If you have a student signed up for the ski trip, please go online and register them by Monday, January 30th. All students who returned forms received information on how to register. Also, just a reminder that the ski trip is Thursday, February 9th.

Families, Reminder that the Habit #4 Think Win-Win Family Connections Sheets are due tomorrow. Right now only 41 students have this turned in. If you don't have this done yet, please make an effort to get this done today. It takes about 15-20 minutes to complete. If you lost your copy you can print one by going to:
https://drive.google.com/file/d/1BF00_fGm2lY-A129-9jk0XqxajqRRS_P/view?usp=sharing
Thanks, Andrew Staff
Due to slick road conditions and projected snow all morning the Andrew School is cancelling school today, Wednesday, January 25.


Andrew Families, Now that we have snow, slush, etc. on the ground please remember to send your child with winter attire to go outside. We will be playing out there and want everyone to be protected from the cold and wet the best they can. Thank you for helping your child with this!
Due to the 2 hour delay today, there will be no morning LEAP.
The Andrew School will have a 2 hour delay today, January 19 due to slick road conditions.
LEAP SKI TRIP: Reminder, ski trip forms need to be turned in by tomorrow, January 18th.

HAT DAY!!! We are encouraging students to bring a $1.00 donation and wear a hat to school on Friday, January 20th to help support the Yeager family who lost their home to a fire during winter break. All money raised will go towards purchasing diapers and pull-ups.
Reminder. LEAP forms for 3rd quarter need to be turned in by tomorrow, January 13.

Please consider going to the Voy Theatre next Wednesday (Jan. 18th). Next Wednesday 20% of all concession and gift card sales from 6:00pm - 8:00pm will be donated to Andrew Little Leaders Davcare!! Come out for a night of fun and help an organization earn some extra funds.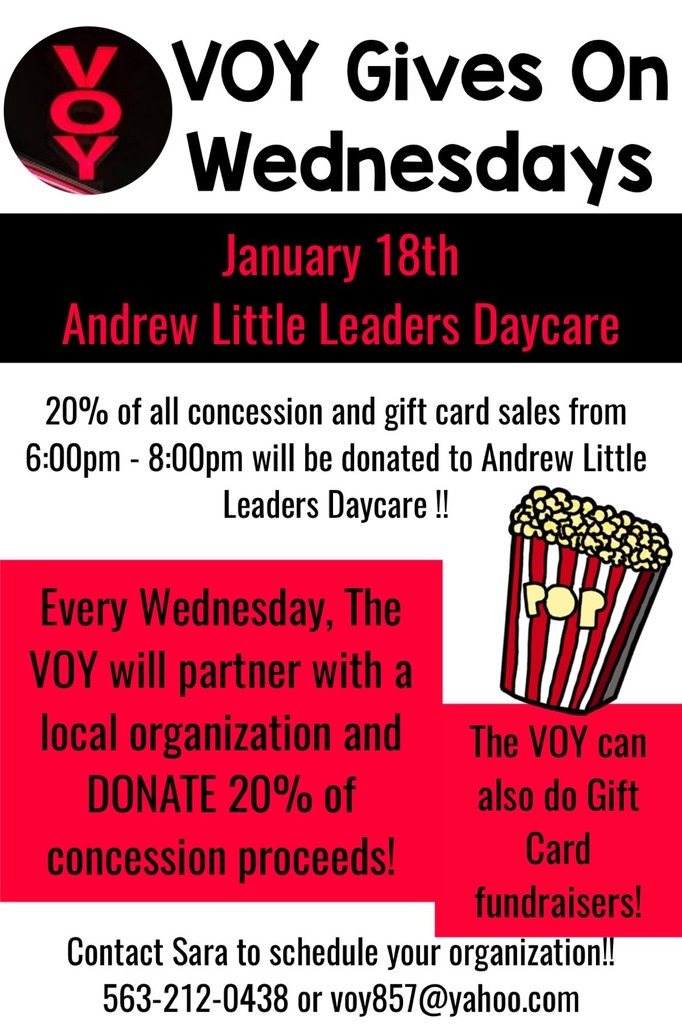 Get your Valentine's cookie decorating kits! $15.00 for a dozen cookies, frosting, and sprinkles! All proceeds go to the 6th-grade class trip! Forms are being sent home with students today!

Give the gift of life! Andrew Community School blood drive on 1/11/23 from 3-6:30pm sponsored by the Andrew Parent Lighthouse Team. Your donation can save a life AND help Andrew School earn a Lifesavings Grant of $250 or more! To make an appointment, tap
https://bit.ly/3uRNvvm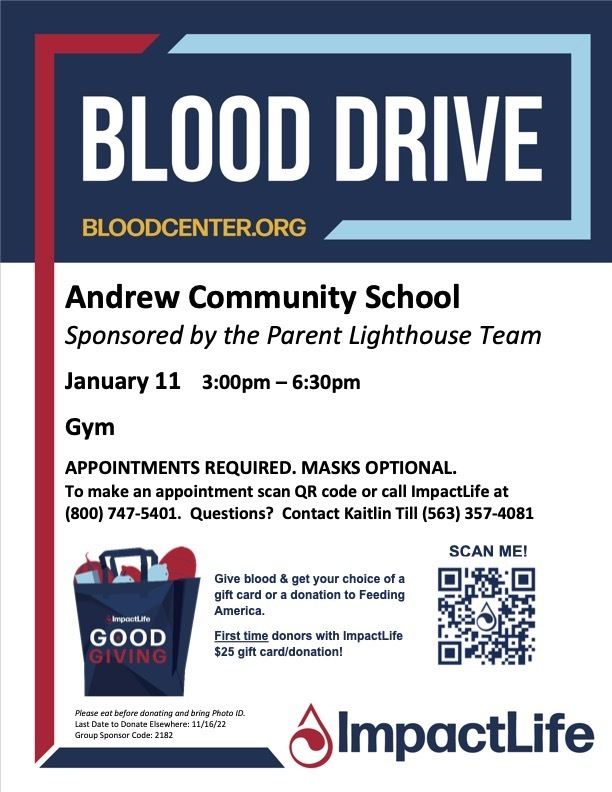 Yesterday, 4th, 5th and 6th grade students received a ski trip form. The date on this form may not be correct. The correct date for our ski trip is Thursday, February 9th.
Due to the late start this morning, there will be no morning LEAP.
Due to slick road conditions, Andrew CSD will have a two hour delay today, January 5, 2023.
Andrew Little Leaders is looking for nurturing, fun loving, caring, compassionate workers! If you enjoy working with and teaching young children this is the job for you! Our center is open Monday - Friday from 6am - 6pm. Anyone interested in just a few hours per week or up to 38 hours per week is encouraged to apply. Starting pay begins at $9 per hour with an additional $2 per hour bonus. If you would like to be a part of our fun, dedicated and rewarding program you can print an application from this link
https://5il.co/1ld8g
and email it to our director at
alyssa.mcafee@andrew.k12.ia.us
.

Due to poor weather and deteriorating road conditions school offices and operations will be closed today (12-22) and tomorrow (12-23). Have a safe and happy holidays!