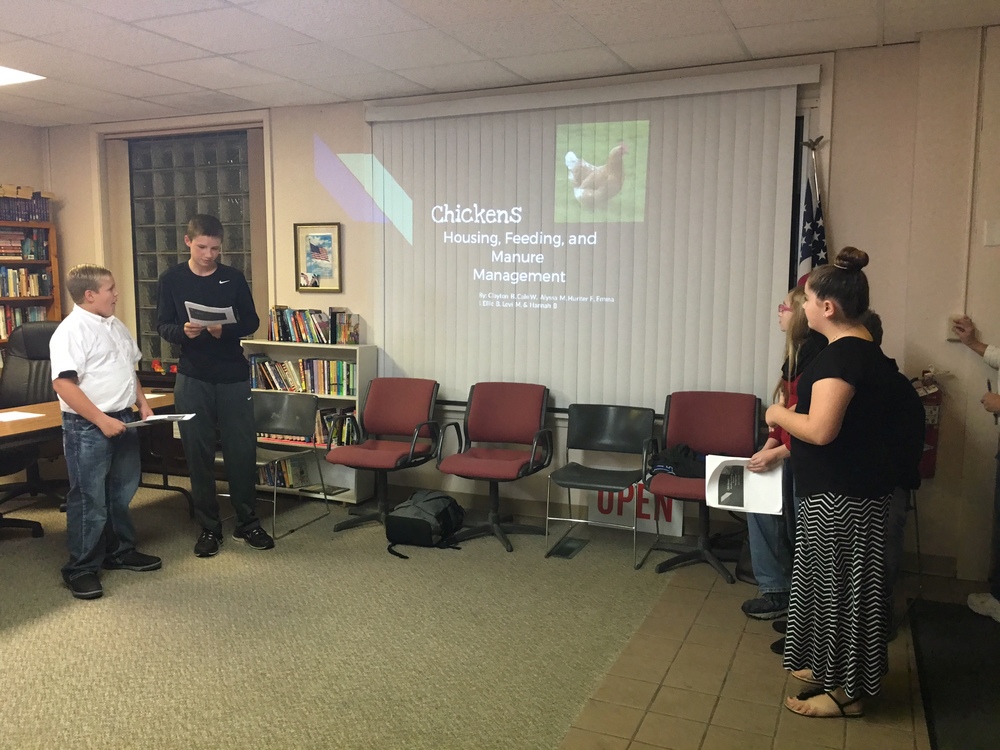 Andrew City Council Presentation
Tara Notz
Tuesday, October 10, 2017
Four Andrew middle school students presented tonight to the Andrew City Council to request a permit for 6 chickens and a chicken coop on behalf of their classmates. The middle school students have been completing research about chickens and how to care for them since the beginning of the school year with their end goal being to have chickens and care for them as part of their project based learning unit about world hunger and also learning about farm to school projects.
The students have been learning about and then demonstrating their mastery of many literacy, speaking and listening and math students throughout this project. Our students were extremely poised and were able to present their knowledge to the city council this evening with detail and also answer challenging questions. The city council stated that this was "one of the best presentations they've ever had." The city council did approve the permit for the school to have a chicken coop as well as 6 chickens.
Students will be responsible for caring for the chickens and will continuously be reviewing what they need in order to continue to care for the chickens. Students explained to city council members that this work builds student responsibility as well as learning about how to feed people in the community and where our food comes from.
Thank you to all of the families who have supported their students in this project and also for being at the city council meeting tonight to cheer your student on. Thank You also to the students who have put tremendous time and effort into this project and to our teachers for their constant support of our students. Our teachers listen for student voice and make learning connections to student interests and facilitate a learning process that involves applying their learning to achieve a goal.
Way to go Andrew students! You are amazing leaders in our community!